Construction Industry
LAKE provide solutions for all sizes of organisations in the construction sector. We combine sector expertise with market-leading Infor SunSystems, Proactis and SAP Business One software to help you streamline and improve financial control.
Billings and Payments
Bill clients quickly and accurately, and actively manage receivables to ensure the business stays within liquidity plans
Manage advance billings, stage billings and retentions based on Quantity Surveyor (QS) and other site information
Manage Construction Industry Scheme registrations and tax deductions when making payments to sub-contractors
Job Costing
Estimate and budget for jobs costs, including all relevant allowed costs
Capture and attribute costs to time-writing records collected from project managers, employees and sub-contractors
Manage change notices on jobs and track their effect on contract values, anticipated margins and working capital and cash requirements
Charge jobs with their agreed share of central overheads and cost of using company-owned assets
Record and report performance against budget for multiple jobs in a way that is consistent with the method of cost recovery that was agreed with each client
Flexible Reporting
Manage exchange rate fluctuations and exposure on imported goods and services or work carried out overseas that can adversely impact job margins and liquidity plans
Plan and monitor short range working capital and cash requirements and actively manage cash and other liquid resources to stay on plan and maximise the income earned from any monies on deposit
Plan for longer term business performance including capital and funding requirements, the viability of potential new projects, investment opportunities, and taxation liabilities
Analyse financial and non-financial performance, and drill-down by Job Type, Job, Stage, Cost type, Project Manager, Client, Site, Etc..
Spend Control
Replace time-consuming manual systems for ordering with an easier to use, more efficient system of electronic purchasing. Keep spend within budget and account for every single penny of non-pay spend.
Capture electronic images and other documentation against costs in a way that can be accessed and presented to colleagues, customers, tax authorities, and others as required
Implement an appropriate set of automated due diligence processes to help on-board, validate, and monitor your relationships with a diverse supply chain including large corporate suppliers and independent self-employed sub-contractors
---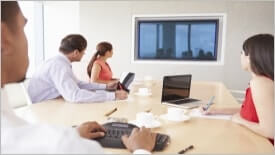 Webinars
Infor SunSystems
Financial Management with the Flexibility to Grow... Anywhere