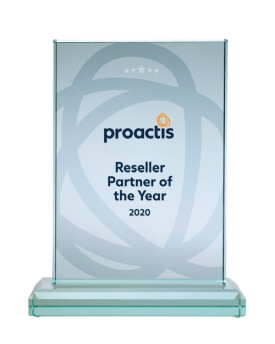 LAKE awarded Proactis Reseller Partner of the Year 2020
LAKE has once again been named Proactis Partner of the year. This award recognises excellence in customer support and leading financial performance for the year to 31st July 2020.
The award was presented at the Proactis Partner Summit held on 10th November. This year, the event was held online in the form of a virtual conference. Receiving the award on behalf of LAKE was Adrian Howard, General Manager.
"We are proud to receive this prestigious award once again. It is testament to our ongoing investment in service delivery, integration, and reporting solutions. We have been a Proactis Channel Partner for over 17 years and SunSystems channel partner for 29 years. The combination of these market leading applications makes a compelling solution."
Deborah Jones, Partner Manager at PROACTIS adds
"We are delighted to be awarding Adrian, Ruth and the team at Lake Financial Systems the award for Best Proactis Reseller Partner 2020. It's very well deserved, bringing new names to Proactis, along withas well as introducing adding value for current mutual customers through subscriptions to to our Supplier and Contract Management solutions. The LAKE team has clearly understood , recognising the changing needs of its customers with the new challenges faced in 2020."