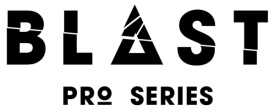 BLAST ESPORTS, organiser of the world's most entertaining esports tournament, chooses SAP Business One from LAKE
Blast Esports has chosen LAKE to implement a new financial management solution based on SAP Business One powered by SAP HANA.
Ramesh Bhimji, Financial Controller, for Blast Esports, explains the reasons for investing in a new finance system:
"The Counter-Strike: Global Offensive tournament has grown massively around the world and there is so much potential for this business.

In 2018 the Danish parent company decided to open a UK hub. This was done as part of the strategy to grow the business and establish an international brand. As a result, the company decided to locate the Finance function in the London office.

Our company has been using an entry level Cloud accounting system that was not suitable for a business of our size and complexity. Reporting, for instance, has been very one dimensional. We have only been able to report by department when we need to analyse transactions by department, project, event, location and so on.

We are also looking to improve accountability and financial control in purchasing and staff expense claim processing. Our current system has options but they are clunky, requiring add-ons and additional log-ins."
The choice of the new finance system was driven by the choice of LAKE as implementation partner.
"I have worked with LAKE on a couple of occasions before joining Blast Esports and always found them professional in the way they go about their business. There's no hype behind the sales. We really understand each other, and I have complete confidence that my vision will be delivered.

LAKE understand what we are trying to achieve and it is clear that SAP Business One is ideal for the journey we are on. SAP Business One offers everything we need on one platform, one log in. It will take us away from manual spreadsheets and deliver the level of reporting that we need to help grow the business."