H Walton Ltd has chosen LAKE to implement a new ERP solution based on SAP Business One. SAP was chosen for its reporting flexibility and value when compared with leading alternatives. LAKE were chosen for their understanding of the agricultural sector and partnership approach to system implementation.
SAP is replacing a combination of Pegasus Opera software and manual systems for order processing. Oli Norris, leading the system selection for H Walton Ltd, explains:
"We have been using versions of Pegasus Opera for a number of years and had got to the point where we had outgrown it. The level of reporting we need and the business controls we were looking to put in place were beyond its capabilities.

"Moving to a more automated system will be more efficient and will greatly improve traceability of orders and raw materials."
The process of selecting a new system involved comparing solutions that are widely used in the agricultural sector. SAP Business One was chosen from a shortlist that included both bespoke and packaged software.
"The reporting capabilities in SAP are really powerful. You can drill into whatever record you want. And that's great for a business like ours that wants information right here, right now, at the click of a mouse.

"One of the other things we like about Business One is its ability to integrate with other systems. That means we can have custom software built and integrated into the SAP solution.

"We are also big fans of the fact that SAP Business One is a universal piece of software that has tens of thousands of users globally. With SAP there is a lot more investment in the core product than is perhaps the case with the alternatives we looked at.

"And, as it turned out, SAP is really good value compared to our other options. The initial investment and ongoing costs were more acceptable to a business of our size."
The choice of SAP Business One was also influenced by the choice of LAKE as implementation partner.
"We did our research before drawing up our shortlist and one of our customers was very complimentary of the service they had received from LAKE.

"When LAKE came to pitch for the business, they just hit it bang on. They were very honest and very candid with us and you could tell they knew more about our sector. It was clear they had researched our business and invested in trying to understand what we do.

"And we felt that LAKE's values as a business aligned with our company values. That really contributed to a feeling of security and confidence in LAKE as a partner."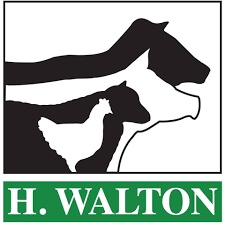 H Walton Ltd in their own words
H Walton Ltd have built up experience and expertise in the supply of animal feedstuffs over almost seventy years. Our understanding of livestock farming ensures that a solid background in nutrition backs up all our grain and meal supplies.
The firm prides itself on its specialist knowledge of each commodity required for the specific compound required for on farm mixing.
H Walton Ltd provide an efficient, complete service from the commodity market negotiations to final delivery by our own fleet of vehicles, providing a nationwide delivery service specialising from the Borders of Scotland down to the Midlands.
This enables us to supply animal feed at very short notice and negotiate the keenest prices for all commodities. H Walton Ltd always ensure effective supply of quality produce at very competitive prices.
Supplying animal feed to the farm in bulk-blown up to 28 tonne and traditional bag wagons, frequently working with large merchanting co-operatives including poultry, cattle, sheep and pig farmers, amongst our regular clientele. H Walton Ltd also provide a variety of pet foods from leading suppliers.