SAP Business One | Software Excellence Award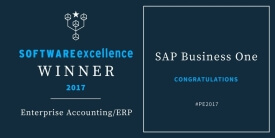 SAP Business One ( SAP B1 ) is the 2017 winner of the UK Software Excellence Award in the category of Enterprise Accounting/ERP. The winner was announced at an awards ceremony held on Thursday 19th October at The Brewery, London.
Software Excellence Awards are managed by AccountingWEB in partnership with ACCA and with support from BASDA. Candidates for these awards are drawn from 7,000 thousand user surveys. This community-driven approach highlights software suppliers that go above and beyond, making a real impact on the accounting profession by exceeding customer's needs.
October 2017


---

---

Contact us
0113 273 7788