SAP Business One provides a complete set of tools to help manage and streamline your financial operations.
Manage all financial transactions including general ledger, account set up and maintenance, journal entries, multi-dimensional cost centres, foreign currency adjustments, and budgets.
Streamline all financial processes such as receipts, bank transfers, deposits, advance payments, credit card payments, and bank reconciliation.
Key features:
Chart of accounts
Journal entries
Posting templates
Recurring postings
Exchange rates in multiple currencies
Financial reports
Budget management
Fixed assets
Cost accounting
Multiple posting periods
Incoming payments
Outgoing payments
Payment run
Bank statement processing
Cheques
Credits
Deferred payments
Account reconciliation
SEPA
SAP Business One is available for two database options: SQL Server and SAP HANA. Both versions include powerful reporting capability. SAP HANA goes further by allowing you to take advantage of the latest advances in in-memory computing technology.
SQL Server:
Create reports for nearly every aspect of your business including customer and supplier debt, sales, cash flow and more. Integral SAP Crystal Reports provide in-depth analysis and graphical reporting.
SAP HANA:
Create and run reports on up-to-date data in SAP Business One in seconds, without IT assistance, and perform 'what-if' analysis with the data you use most.
Use predefined content and multi-dimensional data sources to analyse data and build reports, and use Microsoft Excel to explore and investigate real-time data.
Gain access to a variety of pre-built reports, customised around the business processes you use most.
Find and access all data in SAP Business One with freestyle enterprise search.
All the tools you need to help efficiently manage the entire sales process and customer life cycle, from quotes to orders to deliveries to invoices.
Key features:
Opportunities and pipeline management
Contact management
Activities management
Calendar
Campaign management
Blanket agreements
Quotations
Purchase orders
Deliveries
Returns
Invoices
Recurring document generation
Bulk invoicing
Dunning
Price lists in multiple currencies
Special prices
Period and volume discounts
Customer management
Gross profit calculation
Microsoft Office integration
Provides your business with the tools that it needs to handle the entire procurement process, including orders, receipts, invoices, and payments.
Key features:
Purchase request
Purchase quotations
Web enabled RFQ
Purchase orders
Goods receipt POs
Goods returns
A/P invoice
A/R reserve invoice
Down payment invoice/request
A/P credit memos
Landed costs
Intrastat
Import process
Workflow and purchase approvals
SAP Business One delivers fully integral CRM functionality as part of the complete solution. This functionality enables complete control of customer acquisition, retention, loyalty, and profitability for the business. Tightly integrated features across marketing, sales, and service provide end-to-end visibility of the complete customer lifecycle.
Key features:
A complete solution for the management of items, stock levels, price lists, special price agreements, transfers between warehouses, and stock transactions.
Key features:
Item management
Item lists
Price lists
Goods receipts
Goods issues
Stock counting
Supplier catalogue numbers
Transfers
Serial number management
Batch number management
Pick and pack
Recurring transactions
Inventory tracking
Bin location
Multiple units of measure
A simple, powerful MRP system that helps schedule and manage items for production or purchasing based on a variety of criteria.
Key features:
Forecasting and Planning

:
Forecasts allow users to predict demand based on potential future requirements, instead of relying solely on received orders. Forecast calculations help users foresee future demand for the product and adjust material planning accordingly. These demand forecasts can be used in the MRP wizard.

The MRP planning wizard takes users through the process of creating planning scenarios in five easy steps. Users define the planning horizon, which can be viewed in weeks or days. They can also opt to exclude non-working days from the production and purchase planning.

Scenarios can be run for a range of items or item groups. The user selects the desired criteria in the scenario, such as existing stock levels, open purchase orders, sales orders, work orders, and stock that has reached its minimum level, as well as pre-defined sales forecasts.

Once a scenario is executed, the solution presents a recommendation to 'make' or 'buy' items in a recommendation report. Drill-down options are available to allow planners to view the net requirement calculations and view the actual documents driving the gross requirements. Exception warnings and visual queries are also available. These help users identify orders that need to be expedited.

Order Recommendations

:
From the recommendation report, planners can automatically select recommended production orders and purchase orders for automatic creation. If an item needs to be outsourced, the system allows planners to easily convert a production order to a purchase order. Purchase orders to the same supplier can be optionally consolidated into one order, streamlining the purchasing process.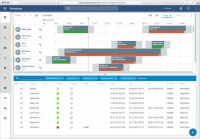 The service management capabilities help service departments provide support for service operations, service contract management, service planning, tracking of customer interaction, activities, and customer support.
When combined with the optional Field Service module, it provides everything you need to ensure you get the right service technicians to the right place, on time, with the parts they need.
Key features:
Service management
Service planning
Tracking across multiple customer interactions
Equipment card handling
Service dashboards
Service contracts
Mobile interaction
Recurring transactions
Human resource integration
Knowledge database
Service calendar
Service call processing